AirPort Extreme Base Station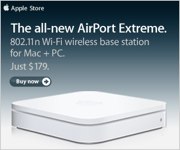 I took the advantage of last Friday's Apple Store (Online) sale and bought an AirPort Extreme Base Station (Gigabit Ethernet). Apple announced the new AirPort Extreme Base Station with 802.11n Wi-Fi wireless during MWSF 07 (Mac World San Fransisco 2007). I bought an 802.11n wireless and Gigabit router (D-Link DIR-655) in June. The main reason I bought a D-Link one was that Apple's AirPort Extreme Base Station did support Gigabit Ethernet. Later in August, Apple updates AirPort Extreme Base Station with Gigabit Ethernet.
(more photos below)
There are two reasons that I got this router. The D-Link DIR-655 router's signal is not very strong in the other end of the house, and it is hard to use it downstairs. Even that Laurent's 802.11g wireless router positioned downstairs can't provide enough signal to the front end of the house. (Both routers are in the back end of the house D-Link DIR-655 is upstairs, Laurent's downstairs.) The Wi-Fi range of 802.11n is much greater than 802.11g's, however due to the thick brick walls, still not strong enough. Adding another 802.11n router to extend the Wi-Fi network makes a good sense to me.
The other reason is simple, Apple was having discounts through its online store. Normally A$ 259.00, I bought it for A$ 228.00, that was about 12% off.
AirPort Extreme Base Station box contents:

AirPort Extreme Base Station:

Or perhaps, I could've re-located the DLink router to the centre of the house. In such case, I should have sufficient coverage in both ends of the house.
As for the delivery issue. Apple shipped it out the following date I ordered (Saturday), and the courier company first arrived on Wednesday (without pressing the doorbell.) I received it on Thursday.
Related blog entries:
My wireless network was hacked. (1 August, 2007)
802.11n part 2 (22 June, 2007)
802.11n and gigabit ethernet! (21 June, 2007)
Posted by Antony on 8 December 2007 4:25 PM |
Mac hardware
,
photos
more December 2007 blogs. (or 2007 blogs)
from iTunes Store: