Cha-Ching 0.2, a fun way to manage your money

I saw TUAW mentioned Cha-Ching today. The first thought about Cha-Ching is Delicious Library. Like Delicious Library, Cha-Ching is fun-to-use and useful application, it's a money managing application that makes tracking down your spending more enjoyable.
Strictly speaking, Cha-Ching is not a professional money managing software such as iBank, it can be used to remind bill payments (integrates with iCal). But we really like is the way it manages the goodies (or junk) we bought. You can take pictures of the goodies you bought, this is good for insurance or when you lost your properties.
If you don't have an iSight camera, you can still add photos taken from digital camera. You can have more than one photos for each item.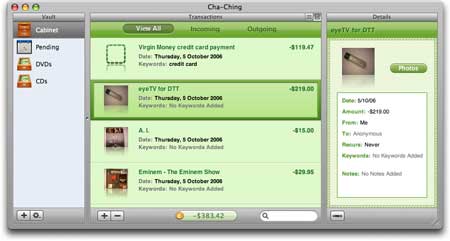 I have a feeling that I might get this interesting app.
If you are interested, Cha-Ching is currently in the Beta stage. The software is priced at US$24.95. They currently have a special for US$14.95. 30-days free trial is available.
Delicious Library is a software that helps keeping tracks of users' books, music, DVDs, games collection in a fun way
Posted by Antony on 5 October 2006 3:32 PM |
all things Mac
more October 2006 blogs. (or 2006 blogs)
from iTunes Store: